Father's Day: Gifts That Will Make Dad Smile, Literally
Finding the perfect gift for your father may seem incredibly challenging. You want to get him something that lets him know how much you love him, but it also needs to be something that he'll use or be proud to display. You may be ready to fall back on traditional gifts, such as boring ties or socks, to save your sanity. But before you do, check out our list of unique gifts for dad that will make him smile - literally.
Custom Socks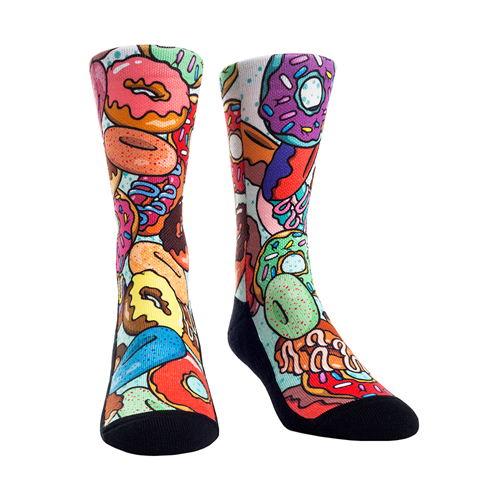 What could be better than custom socks for the best dad of the year? Rock Em Socks carries a pair of socks you can completely customize just for your dad by allowing you to put YOUR face on them. That way, he'd have you with him every day no matter where he goes. If you're not into having your face on his feet, Rock Em also carries socks with multiple pop-culture references or cool designs. Grab a pair for your dad so he has a pair for everything he loves. 
Camping Gadgets

There's one thing every dad loves, and thats camping. But no dad wants to be out camping with boring gear, he wants to be the talk of the campsite! Show dad how much you love him and appreciate his passion for the outdoors with a subscription to Nomadik. Nomadik is a quarterly or monthly subscription box that will send your dad the latest outdoor gear. With themed boxes that include gear from best-in-class brands, your dad will be saying thank you every time a box is on the doorstep. Plus by subscribing to their boxes, you can save on all the gear in them! The value of each box is ALWAYS more than what you pay. Reduce your dad's outdoor anxiety and improve his mood by giving him the gear he needs every month to spend more time outdoors. 
Teeth Whitening Devices
Another option you have for the best product for teeth whitening at home is one of our advanced devices. All of our devices were developed by a practicing dentist to get teeth as dazzling as possible. They use a patented heat and light technology to get your dad's teeth up to 12 shades brighter in as few as five days without sensitivity.

These teeth whitening devices can also be used whenever it's convenient for your dad. Depending on the device he chooses, he can whiten 3 times a day or 4 times a day for up to a week - whatever works best for his schedule. No matter which one he chooses, the treatment time is only eight minutes, so he can get back to living life to the fullest.

Deciding which device to get your dad will depend on his lifestyle and preferences. All of our devices use the same technology to get his teeth as white as possible, but the GLO Brilliant® White Smile Teeth Whitening Device is the newest and best device in the lineup. Clinically proven to whiten 12 shades with zero sensitivity, give your dad the whitest smile at the BBQ!

Special Kitchen Tools

Does your dad constantly like to try new things in the kitchen? Does he have every cool device known to man? We'll bet he doesn't have this, but it's probably on his wishlist! Introducing the Breville Smoking Gun. The perfect way for dad to elevate his dishes or cocktails with natural applewood or hickory flavors without the extra heat. This versatile tool quickly adds smoky flavor to food before or after cooking. Simply place the wood chips in the burn chamber, light, and use the flexible hose to add smoke to foods in any closed container. From resealable bags to cocktail shakers, your dad will be able to make anything have a nice touch of that smoky flavor he craves. 
Unique Office Gear
Help dad elevate his office with some cool gear that he didn't know he needed. The Nomad Base Station is the perfect addition to any office space. The base station with Apple Watch mount integrates a sleek, modern design with a functional wireless charging hub. With 3 high-powered charging coils and a built-in mount for an Apple Watch charging cable, the Nomad Base Station creates a frictionless charging experience for anyone. Dad will finally be able to charge up to 5 devices seamlessly while he's busy at work. He'll never miss an important message again. 
Bring a Smile to Your Dad's Face
Finding the right gift for Father's Day shouldn't be a challenge. You want to bring a smile to his face with your thoughtfulness, but you also want that smile to last for longer than a day. For dads that have been talking about getting a whiter, brighter smile, now is a great time to help them achieve their goals. Check out the different products we have to offer at GLO Science!
---